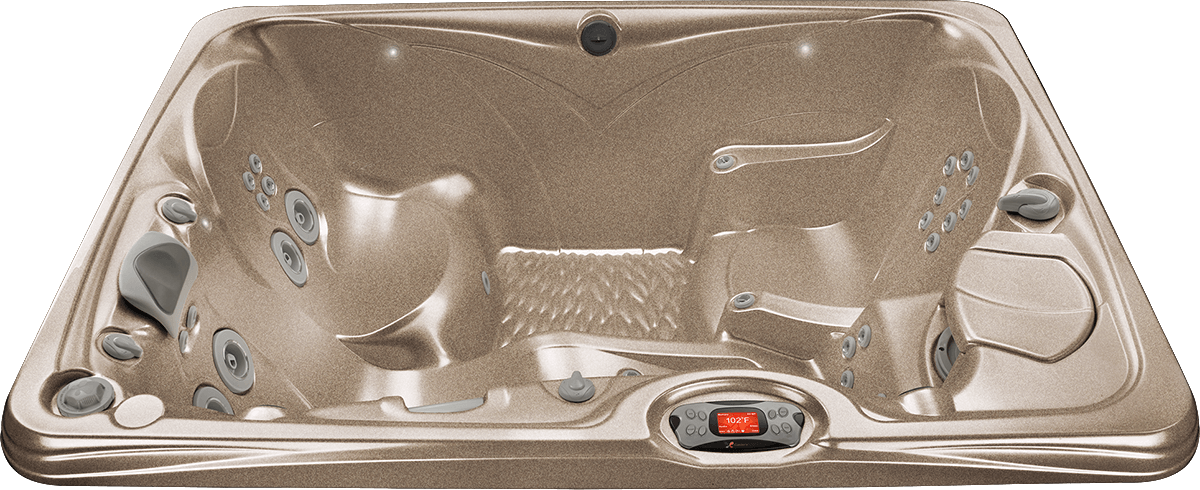 Kauai ® 3 Person Hot Tub
Named after the Hawaiian island, this cozy hot tub seats 3 adults and features powerful jets and conversation seating. With 20 Euro jets, 5 VersaSsage® jets and a powerful ReliaFlo® 2.0 HP pump, the Kauai® is a powerhouse of pleasure.
Cabinet



Shell





SEATING CAPACITY
3 Adults
DIMENSIONS
7′ x 5'5″ x 29.5″
213cm x 165cm x 75cm
WATER CAPACITY
230 gallons
875 liters
WEIGHT
740 lbs. / 335 kg (dry)
3,185 lbs.* / 1,450 kg (filled)
JET COUNT
31
HOT TUB JETS
24 Euro, 5 VersaSsage® , 2 Euro-Pulse®
LIGHTING SYSTEM
SpaGlo® 7 Points-of-Interior Lights
WATER FEATURE
N/A
CONTROL SYSTEM
Advent® LCD Main CP
HEATER
EnergyPro® Heater (4,000 Watts)
ENERGY EFFICIENCY
Fully-insulated with FiberCor® material, 2
lb. density; Certified to the California
Energy Commission (CEC) in accordance
with California law
BOTTOM SEAL
Poly Sheet
ULTRAMASSEUSE
N/A
AIR JET SYSTEM
N/A
CIRCULATION PUMP
EnergyPro® Circulation Pump
MONARCH CD OZONE
Optional
WATER CARE OPTIONS
Spa Frog Cartridge Ready
ENTERTAINMENT SYSTEMS
(OPTIONAL)
Wireless sound system with Bluetooth
technology, wireless In-home Dock,
Wireless TV
INSULATING COVER
3.5″ to 2.5″ tapered, 1.5 lb.-density foam core
COVER LIFTERS (OPTIONAL)
ProLift® , ProLift II, ProLift III, or ProLift IV
FILTER SIZE
50 sq. ft.
JET PUMPS
1 ReliaFlo® Pump; 1 Single-Speed 2.0 HP
(4.0 BHP)
SPA SHELL AND STONESCAPE
N/A
SPA SHELL COLORS
White Pearl, Desert, Midnight Canyon,
Tuscan Sun, Sterling Marble
CABINET & STEP COLORS
Espresso, Coastal Gray, Teak
STEP OPTIONS
EcoTech® or Polymer
COVER COLOR
Chestnut, Ash, Caramel
CABINET TYPE
EcoTech® Cabinet
ELECTRICAL CONFIGURATION
230V/50 amp
GFCI SUB-PANEL
Included
BRANDING
Branding Decal on cabinet
*Filled weight includes the weight of the occupants assuming an average weight of 175 lbs.**Brake Horsepower (BHP) is the horsepower a pump motor achieves for a brief period upon start-up.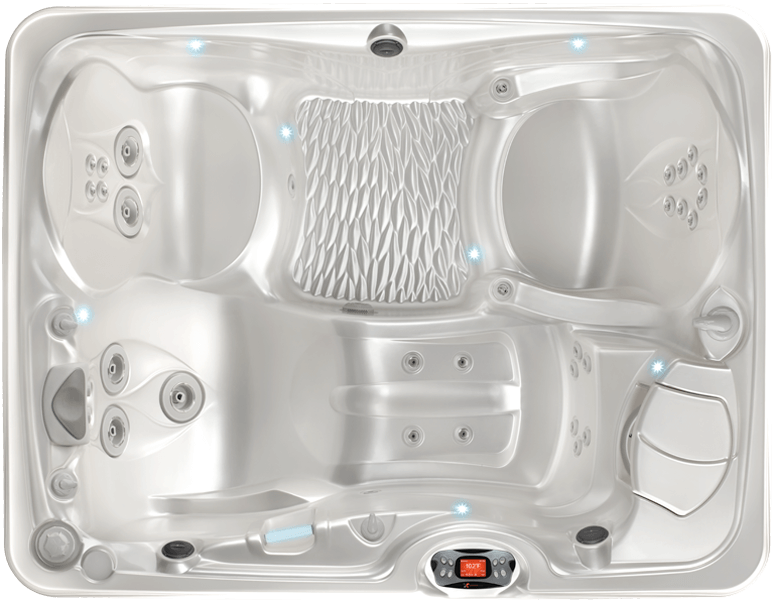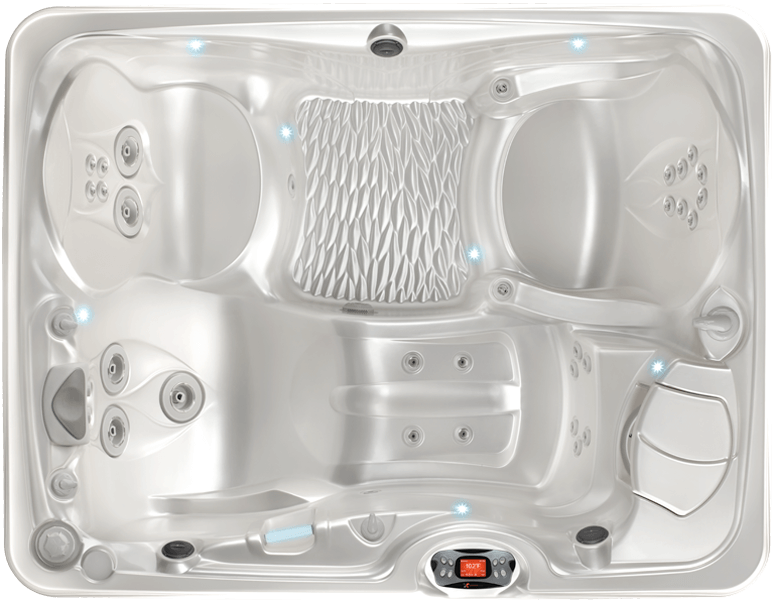 VeraSSage® jets allow you to rotate the force of the massage and set a stationary, direct or rotating jet stream.
Euro-pulse jets feature a dual-port, rotating nozzle that provides a stimulating, pulsating massage.
Provides a precise massage to target specific muscles.