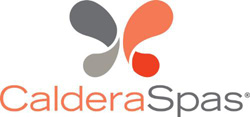 At Paradise Design, we are equipped and ready to find the perfect hot tub spa to fit your needs. Caldera Spas has three different spa series (the Utopia, Paradise and Vacanza) with many different makes and models for you to choose from. If you want to release tension and become rejuvenated every time you step into your hot tub, look no further than Caldera Spas. Let Paradise Design help bring beauty and relaxation into your life today.
For an amazing personal care experience, the Utopia Series combines high-performance details and transformational design. The Utopia Series models offer the pinnacle of hot tub and spa comfort, design, and performance. These spas are easy to use, come with low operating costs, and provide a wonderful hot tub experience, making the Utopia Series the preferred choice of hot tub and spa owners.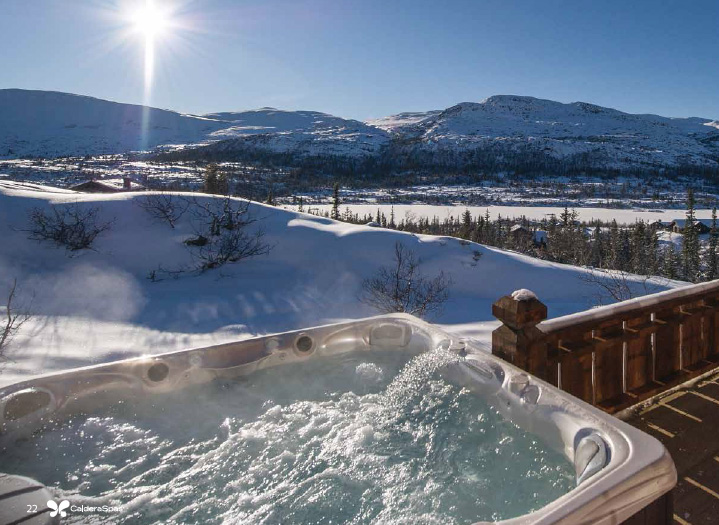 With various spa models sized for anywhere from three to seven adults, the Paradise Series consists of comfortable, high quality spas that provide premium options and practical functions that deliver an immersive hydrotherapy massage. The Paradise Series is known for its versatile seating and provides users with a relaxing and enjoyable experience. This series is a repeat selection by Consumer's Digest as a "Best Buy" in portable hot tubs, making it a popular choice by those looking to add a spa to their backyard.
The hot tubs in the Vacanza Series have been designed with a variety of options that provide the broadest range of therapeutic benefits at the best value. The Vacanza models focus on jet arrangements that target major muscle groups to work away stress so you emerge fully revitalized and refreshed.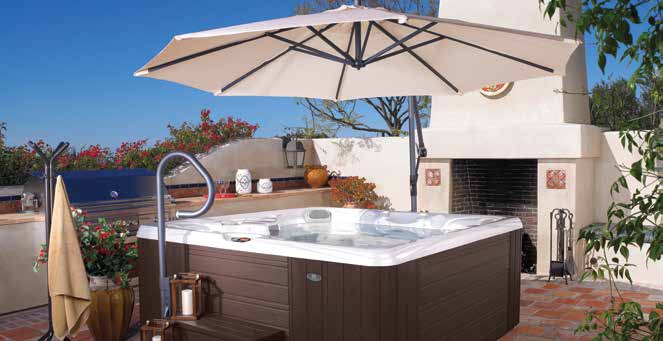 If you are interested in purchasing a Caldera Spa or would like more information, please contact Paradise Design today. We would love to work with you and help you find the perfect spa to fit you needs!
There are so many wonderful benefits of a Caldera spa. We are passionate about your hot tub experience because we know how effectively a spa can release tension from the body and mind. Caldera has put a lot of thought into the placement of the jets and the contour of the seats so that each jet is placed exactly where you need them most, with their patented Hot Tub Circuit Therapy. Not only are you getting the greatest massage possible, you also aren't paying for any additional jets that aren't being effective for your personalized massage experience. The water diverters located in convenient places, controls whether you want your massage to be deep and penetrating or soft and gentle. When it comes to relaxation we want your experience to be pure comfort. Everything about a Caldera spa is built for many years of dependable performance. Caldera is always improving as technology improves, to continue to give you the best performance available at a competitive price. Some of these improved changes include the following. They have implemented the in-line spa frog cartridge, for even greater ease of water maintenance and clarity with the 4 month mineral cartridge which adds silver as a natural sanitizing agent requiring fewer chemicals. The system is integrated into the shell of the spa where it is working continuously along with the circulation, so that your spa is ready when you are. The Monarch CD ozone system, (standard on all Utopia models, can be added to any Paradise or Vacanza series) contains a CD-ozone unit that continually injects ozone bubbles into the water to neutralize contaminants. The Monarch CD-ozone perfectly compliments the Silver ion cartridges to oxidize the spa water. Simply treat the spa with MPS oxidizer (which comes in several gentle scents, for even greater water enjoyment) after each use and set the (new for Fall 2016) chlorine In-line spa frog cartridge at a low setting for perfect, sparkling water every time. The bromine spa frog cartridge is also available instead of the chlorine spa frog for those who are more sensitive to chlorine. We also have a chemical free product called The Natural which uses a sea kelp as the sanitizing agent, which is also a great fit with the ozone & silver ion systems, designed for a gentle bather load. Other Caldera benefits is greater energy efficiency of the pumps and electrical components. Caldera has brought EVERY component in house, meaning that Caldera has been manufacturing everything themselves from the jets to the circuit boards. What this means to you is they are in complete control of quality, AND you will always have replacement parts available in the future, which is extremely important to you, years down the road, when it is time to get something as simple as a replacement pillow. Caldera has a GUARANTEE that your spa will have replacement parts available for the 20 + year life of your spa. This means you won't ever experience a discontinued part. One of the biggest frustrations of being a service center for other brand spas, I've personal seen several other brand spas start discontinuing parts after as few as 3 to 5 years leaving the spa user with little to no after the sale service. Caldera Spas' guarantee of 20 year part availability is just one of the many ways they are leading the market in quality and customer service. It also shows how well built the structure of a Caldera spa is. Additional improvements is the improved insulating material in any of the Caldera models. All Caldera spas' are FULLY foamed with Caldera's exclusively patented FiberCor material which has a greater R factor than the "blown-in" foam of years past traditionally and commonly used as insulation. Not only does the FiberCor have greater insulating properties, it is environmentally friendly as it is made from recycled jean material. We have been selling Caldera spas since 1995 and around the 10 - 15 year mark there has been very minimal spas that have needed some very minor plumbing repairs. This new FiberCor material has greatly fixed this possible plumbing issue, meaning an even longer lasting spa. Plumbing components and fittings are fairly inexpensive and Caldera's patented FiberCor material has eliminated any potential headache. Oh! The joys of technology! The FiberCor material is completely removable allowing for quick and easy access to the plumbing lines if needed, this greatly extends the life of your spa as the largest expense to any plumbing repair is finding the location. The FiberCor is also designed for any water to drip directly beneath the area of the leak, the FiberCor can be removed, allowed to dry completely, and simply put directly back into place, there is of course, a barrier between the FiberCor material and the spa skirting keeping it in place and completely secure from any water from the outside. Even greater than that the FiberCor material is completely flexible, soft and much lighter, it surrounds the plumbing lines without putting any pressure whatsoever against the glued fittings, which means that over time any minor movement from the environment, or the slight vibration of the pumps will have no affect on the plumbing, which means an even longer lasting spa. Caldera still maintains their exceptional quality of wet testing every single Caldera spa while the plumbing is exposed, prior to the foaming and skirting process, with actual people in safety suits walking around each spa for 1 full hour, this is only one of several quality control check points each Caldera spa undergoes prior to being ready for shipment. Each Caldera spa is built on a solid wood frame with a full visqueen plastic bottom with easy to access electrical connections to the equipment from either side of the control panel. Each Caldera spa is also equipped with easy to access drain spout, simply attach your garden hose to easily divert the spa water when the time comes for a fresh fill. We also offer this as a service, just let us know if you would like us to take care of this for you. Caldera has also added some additional upgrade options such as the Coolzone system for spa use in the Summer time for cooler temperatures. The Coolzone system is like a little A/C unit for your spa bringing spa temperatures to as cool as 60 degrees. The have also added the Connextion remote spa monitoring system upgrade for your spa to be monitored by a smart phone or tablet. Either of these upgrades can be added later. The Bluetooth sound system is also available, the bluetooth system can be added at anytime making your favorite playlists playable from My Spa on your MP3 player. Please let me know if this option would be of interest to you as the waterproof speakers do require being installed at the factory, just more spazzazz available. The Vacanza Vanto and the Tarino have a wonderful warranty, 5 year no leak surface, 2 year shell surface, 2 year plumbing, equipment and labor, in which we are the warranty station for service or for anything you might need. The Caldera spa of your choice would include the following: Start up chemicals, color matching steps and a factory fitted, color matching, insulating cover. Please feel free to visit www.Calderaspas.com as they have a fun color selector. We find it interesting how the different cabinet colors bring out the different colors in the shell. They also have some additional information and real time ratings and reviews on how other spa users are enjoying their Caldera spa. Please let us know if you have any additional questions, comments, or to schedule a backyard consultation. We would love to be helpful in anyway that we can in assisting you in finding the spa that is right for you, and anyone who is lucky enough to join you!